We were proud to be Sponsors at the 2020 Modern Law Awards Dinner at Victoria Warehouse, Manchester on Thursday, 6th February 2020. We sponsored the Marketing and Communication Strategy of the Year Award. This rewards – '..an integrated marketing strategy, harnessing social media to promote a firm's success..' This is probably one of the most important awards for modern law firms. As a leader in promoting innovative approaches to legal costs, we were particularly drawn to this award. Congratulations to winners, Morton Fraser Lawyers from Edinburgh.
Our own Mike Yassin presented the award alongside well known impressionist John Culshaw. John had them rolling in the aisles as he introduced the awards in the style of Donald Trump with a bit of Frank Bruno thrown in!
Mike was at the dinner with our social media consultant Steve Cornforth. We shared a table with Mike and Sandra from Purdy Smith who are a small London form that specialises in Medial Law and who were shortlisted for Boutique Firm of the Year.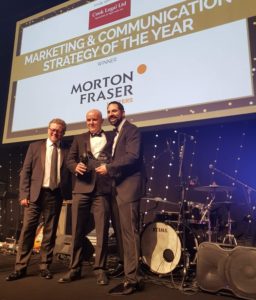 This was an excellent night all round.
As we continue our development strategy we are delighted to be at the heart of this key event in the legal calendar.